Family Peace Center Guiding Principles
Survivor Driven – Kindness and Respect – Hope Centered – Safety Focused –
Intentionally Diverse and Inclusive – Empowering Survivors, Families and Communities
——————
THE FAMILY PEACE CENTER MODEL:
The current process for helping victims of domestic violence can be
confusing, complex, and difficult to access. Inefficiencies strain limited public
and private resources and often force victims to recount their painful
experiences to multiple providers. Women must find transportation to as many
as 20 different offices to obtain orders of protection from their abuser and
replace vital documents such as birth certificates, driver's licenses, and school
records, so they can begin a new life, free from domestic violence.
The nationally recognized and proven Family Peace Center model
enables us to transform our community's response to family violence.
Ultimately, this helps make Little Rock and its surrounding communities a
healthier, safer, and more peaceful place to live.
In 2002, Casey Gwinn, president of Alliance for HOPE International, began
the Family Justice Centers. The organization supports developing and
operating a Family Justice or Peace Center, a multi-agency model where
victims and their children can come to one safe location for all their
resources. This is in lieu of having to go from agency to agency, telling their
story over and over in order to find safety, healing, and hope.
The Alliance for Hope created a model that calls for efficient and effective
co-located multidisciplinary services for domestic violence and sexual assault
survivors and their children. The Family Justice Center has been recognized as
a best practice model by the US Department of Justice.
THE KEY TO ITS SUCCESS IS THE CO LOCATION OF MULTI-DISCIPLINARY
PROFESSIONALS FOCUSED ON ADVOCATING FOR VICTIMS' SAFETY AND
QUALITY OF LIFE. THIS SURROUNDS THE VICTIM WITH THE SUPPORT AND
RESOURCES THEY NEED AT A CRITICAL TIME.
At our new Family Peace Center in Little Rock, victims of family violence
will come to one location and be able to tell their story just one time. There
they will meet with a counselor in order to start their process to get a
restraining order and plan for their safety. They will meet with a police officer,
meet with a prosecutor, and receive information on emergency shelter,
transitional housing, and support. The entire process leads to education,
services, job training, and independence. The new Family Peace Center will
be a public location. Of course, we will have security but we want all persons
suffering from any type of abuse to know where we are.
The City of Little Rock has leased to Woman & Children First, almost 4 acres
in Southwest Little Rock for $1.00 a year for 99 years. It is the perfect location
surrounded by the people we want as neighbors. A LRPD substation, Arkansas
Children's SW Community Clinic, Southwest Community Center, the Pulaski
County Heath Unit, Pulaski County Department of Human Services, and more.
Little Rock needs this, now more than ever.
——————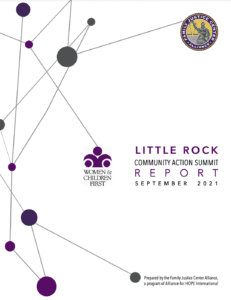 Click here to read our 2021 Little Rock Community Action Summit Report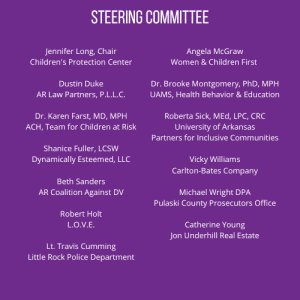 To learn more about the history of The Alliance for Hope click here.
Family Peace Center Resources:
The Alliance for HOPE
www.allianceforhope.com
Women & Children First
wcfarkansas.org
For more information on affiliated centers:
https://www.familyjusticecenter.org/affiliated-centers/